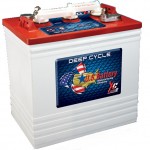 The benefits of US Battery XC2™ include:
Highest initial capacity
Fastest cycle up to full rated capacity
Greatest total energy delivered over the life of the battery
Ultimate compatibility with the wide range of chargers currently used
in the field
High charge efficiency designed to meet the new California Energy
Commission regulation for combined charger/battery charge efficiency
US2200 XC2
TROJAN T105
U.S. BATTERY BENEFIT
122 minutes @ 75 AMP draw
115 minutes @ 75 AMP draw
More Reserve CAPACITY!How? (READ ON!)
63 lb. Weight
Only 60.1 lb Weight
MORE LEAD = more capacity
19 plates per cell

Only

17 plates per cell
Easier to water, more margin for error in getting the water level correct.
5% Antinium Alloy Blend
4% Antimony Trojan Alloy
Antinium™ has no grain boundary, minimizes grid corrosion, extends plate life. More efficient charging due to improved gassing performance.
NEW Diamond Plate Xtreme Capacity™ Technology Paste
Trojan still uses a standard TTBLS paste
US Battery Proprietary formula uses synthetic(TeTraBasicLeadSulfate): ensures uniform chrystal size, higher conversion efficiency and capacity, PLUS:

Higher peak capacity, improved cycle life
Improved energy density (watt-hours/Liter), and specific energy (watt-hrs/Kilo)
Enhanced recharge-ability; costs less to charge, more receptive to charge in cold temperatures.
Fortified plate construction improved; stronger crystal network, decreased shedding of positive plate

Chrystalock™ plate curing
Alpha Plus plate curing
Optimized crystalline structure of synthetic TTBLS paste for extra life, tribasic lead sulphate for capacity. Trojan's alpha lead dioxide is formed with high temperature or high pH, neither of which results in any advantage.
Positive locking Speed Cap™
Manifold push cap
No vibrating loose or acid spitting!
Positive terminal weight = 152.1 grams
Positive terminal weight = Only 128.4 grams
US2200 XC2 terminal is 23.7 grams heavier more durable under high frequency charge and discharge
Negative terminal weight = 142 grams
Negative terminal weight = Only 126.3 grams
US2200 XC2 terminal is 15.7 grams heavier More durable more durable under high frequency charge and discharge
The results are clear... US Battery outperforms, outruns, outlasts, and out-classes Trojan! You could buy a cheaper battery than a US... But then, you'd be buying a cheaper battery wouldn't you?
Get the FULL LINE of US Battery XC2 Products at
Recent Posts
Where to Purchase in an Increasingly Online WorldMilitary Humvee BatteriesWhen companies see a grow …

The Renewable-Energy Craze: Sustainability- Now, that's a word that's been thrown around a lo …

Technology Today Our world has adapted to technology and its uses more rapidly than at any oth …