It's a Lifestyle – And These Retirees Are Ahead of the Curve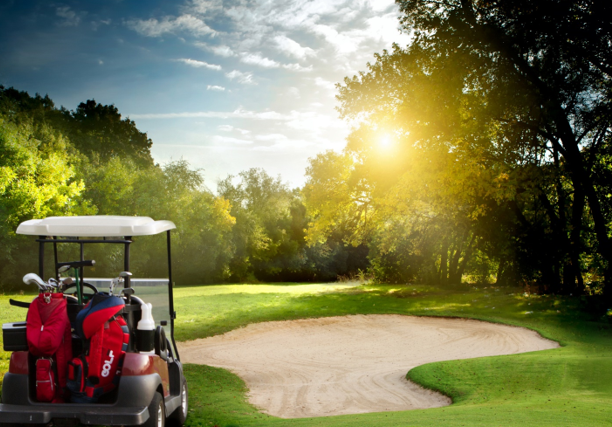 A glittering gem in the central Florida landscape sits just ninety minutes north of Orlando. With live music every night on three lively town squares (with a plethora of nightlife spots and eateries), The Villages has rightfully styled itself "Florida's Friendliest Hometown." How could it not be, after all, with road rage on the street on the up and out– due mainly to the fact that many forego their cars and instead cruise around town in their stylish golf carts?
What Makes Golf-Cart Living So Appealing?
One of the privileges and pleasures of life in The Villages is the leisurely, fun-loving nature of even the most mundane tasks. Have to run errands? Why not do so in luxury, cruising down tree-lined canopied pathways in your open-air golf cart? It's a pretty perk that's hard to pass up. When new Villagers move to town with their cars, all know they're fated to start collecting dust in the garage eventually. Over 100 miles of golf cart paths connect the sprawling greenery of this lavish community. For every plaza parking lot, tens of tiny vehicles are parked two-to-one in the spaces in place of cars. Convenient and simple, the days of waiting at a gas pump are over for members of this retirement community. With just a few simple hours plugged into a charger port in their garages, their vehicles will be ready to go with a full charge bright and early the next morning for their day's adventures.
Riding in Style
Residents spend their days together traversing the town in style to restaurants, local shops, movie theaters, and scenic parks. With the variety of entertainment and destinations to explore, the town squares have become a hub of golf cart shows, where drivers parade their customized rides around town with well-deserved pride.
Have your heart set on vintage cars? Fully modifiable- Villagers can soup up the outside of the golf cart to make it resemble a classic hot rod- complete with the glossy finish of a well-cared-for, timeless beauty. You can choose the paint and upholstery colors to your heart's content and even deck it out for the holiday months! Santa's sleigh certainly doesn't get Sunshine State weather at the North Pole, but plenty of Villagers recreate the sleigh's look on their golf carts come the festive season. Even the resident's dogs (common companions in the cart) get in on the fun- donning Elf Ears and bidding the neighbors good cheer when the season demands it. All in all, the carts themselves have become a beacon of expression for this bustling community of creatives, rebels, and multi-generational fashionistas.
Safety is Priority
The extensive network of multimodal trails and pathways have ensured that residents can feel the wind in their silver hair on every golf cart joyride and that they can do so safely. Set up to be separate from most regular roads, golf cart drivers enjoy tunnels that prevent them from having to cross busy streets. These mini vehicles aren't simply a way to get around town; they're THE way, and the community planners at The Villages have designed roadways that reflect that.
Upkeep – What do Electric Golf Carts and Plants Have in Common
What with all the traveling it gets up to daily, it's essential to stay on top of a golf cart's upkeep. The most important of which is watering the battery.
While you won't be potting the vehicle in soil and tending to any leaves, golf carts have just as much of a need for monthly watering as a succulent or aloe plant would. The result of not watering one is also strikingly similar– while neglecting a house plant will lead to it wilting, drying, and eventually dying, failure to water a battery can cause the cell plate in the battery to dry and flake off, damaging its lifespan or killing the battery.
The electrochemical reaction between lead plates and the battery acid, or electrolyte, produces the voltage to start a golf cart motor. Watering the lead-acid battery essentially creates the charge it needs to run on its own through the battery cells. Proper maintenance and periodic watering are important factors in maximizing the performance and life of your batteries. Battery maintenance can be a costly, time-consuming, and messy job. But, thankfully, with Powerstride's Battery Watering Kit, golf cart care is made easy, saving valuable time and money so you can soon be off gallivanting around the square to some of Scooter's (The town's favorite performer) Live Music.
A basic kit includes all the connectors, valves, tees, end pieces, and tubing required for maintenance. These easy-to-use and affordable basic kits are nice to keep on hand, as the flexible tube routing allows the water filler system to work with various battery bank sizes and configurations.
If you're a new golf cart owner and don't know where to start, don't worry. These kits are so user-friendly your 101-year-old neighbor could do it. When the appropriate electrolyte level is reached, each valve in the kit automatically shuts off water flow to the cell, allowing the water levels in the batteries to be filled to perfection each and every time. By leaving the watering up to the kit, you limit your risk of battery corrosion. In addition, taking care of your cart ensures you won't have to buy new batteries constantly— saving you time and money.
Powerstride Offers These Watering Kits:
Volt battery types: 6-volt batteries, 12-volt, 24-volt, 36-volt, 42-volt, and 48 volts
Water supply tools
Our high-quality battery watering kits come with a warranty and can be used on batteries used in the following:
golf cart batteries
forklift batteries
automotive batteries
pallet and other lithium-based batteries
deep cycle batteries
Whether on the golf course or out on the town, a golf cart watering kit is a must-have to give you all the fun experiences this lively community offers. After all, the residents in this sunny Florida town know that their active lifestyles prolong life and increase its quality. So why not prolong your golf cart's battery life while you're at it?
Powerstride Battery sells a complete selection of OEM deep cycle batteries - Golf Cart Batteries and for every brand of golf cart manufacturer! All Golf Cart Batteries come with Full factory Warranty and FREE GROUND SHIPPING in the USA! Browse from the drop-down menu below or find the Aerial Lift battery you need here! We also sell: 6-volt, 8-volt & 12-volt batteries & gel batteries, Trojan batteries, lead acid batteries, and car batteries.
For answers to all your battery questions, contact us TODAY! Or call 877-576-9379
Recent Posts
Harley Davidson motorcycles are known for their iconic designs and impressive power, but they requi …

It's a Lifestyle – And These Retirees Are Ahead of the CurveA glittering gem in the central Florid …

As the world shifts towards renewable energy, solar power has emerged as a popular and eco-friendly …