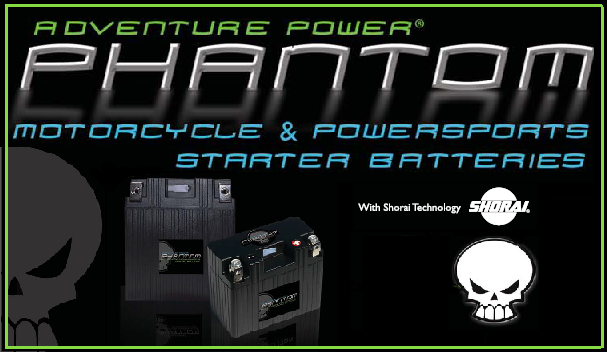 The newest generation of Powersports batteries for Motorcycles, ATVs, Snowmobiles and Utility Vehicles are now available at Powerstride Battery! And hang on to your socks! These babies rock!
For the Pure PERFORMANCE enthusiast who counts every ounce of weight on their ride, UPG introduces their new Adventure Power PHANTOM Lithium-Iron Powersports batteries manufactured by the industry-leader in the technology Shorai.
Universal Power Group press releases announced recently, "We are pleased to announce the growth of UPG's Adventure Power series of motorcycle and powersports batteries and our alliance with Shorai, which creates an exciting opportunity to expand the breadth of our offerings ... This collaboration allows UPG to market new and innovative products to our customers, meeting their unique demands for lightweight and high-performance solutions. Working with Shorai also fits well with our long-term strategy of engaging with partners that have complementary technologies and strengths that we can leverage in our core markets."
Powerstride Battery has been a long-time partner with UPG and the excitement and buzz these batteries has generated around the office is almost as deafening!
What's so amazing about Lithium-Iron Technolgy?
ULTRA LIGHT -- One-fifth the average weight of a Lead Acid AGM Moto Battery which is HUGE for Road racers, off-road racers and those concerned with ANY added weight.

ZERO Sulfation -- That's right. Sulfation is cancer to a Lead Acid Battery. With LiFePO4 you get none of that!

Drop in replacement for OEM Batteries - Foam spacers come standard in every box to customize the fit to YOUR Battery box.

Military Spec Carbon Composite Case - So its HELLA Strong

Faster Cranking

SUPER-FAST Recharge rates

NO GASSING - No Lead! No Acid! That means ZERO Corrosion

Japanese engineering and components

6-10 Year design life
The Phantom line is the latest, high-performance addition to the Adventure Power series, an extensive line of batteries designed for motorcycles, scooters, ATVs, personal watercraft, snowmobiles and American V-Twins. The new lithium iron-batteries are designed to be a drop-in replacement for all OEM equipment and install in a matter of minutes. In addition, they are designed, engineered and tested in accordance with JASA's JIS D 5302, the internationally accepted standard for powersports batteries.
To take advantage of the absolute greatest in Lithium-iron batteries, shop Powerstride Battery or call TOLL FREE 877-576-9379!
Recent Posts
Where to Purchase in an Increasingly Online WorldMilitary Humvee BatteriesWhen companies see a grow …

The Renewable-Energy Craze: Sustainability- Now, that's a word that's been thrown around a lo …

Technology Today Our world has adapted to technology and its uses more rapidly than at any oth …